IR35: The
Informed Approach
Welcome to the Morson Group IR35 portal.
In April 2020 major reforms to off payroll working will come into force, affecting all contractors (working through a limited company) and end clients in the private sector.
We're here to support you. We have partnered with two IR35 experts, Champion Contractors and Weightmans LLP to help our client and contractor communities prepare for the changes in legislation.
So, browse our latest IR35 news, download our guides and reports, read our FAQs or sign up to one of our seminars.

Morson Group: The Informed Approach to IR35
Are you IR35 ready?
- What you need to know
What's changing?
The rules for the taxation of those individuals providing their services through a personal service company ("PSC") introduced under the Finance Act 2000 (more commonly known as IR35) will be changing from April 2020.
Changes to how IR35 is applied in respect to the provision of off-payroll working in the public sector were made in 2017. The intention is to make 'similar' changes for the private sector.
One of the key changes is that the responsibility of defining the IR35 status will switch from the individual to the end client.
So, what do I do?
We strongly recommend that a full review of your contractual workforce is undertaken now, to ensure your business is prepared well in advance of the changes. Morson has an exclusive partnership with Champion Contractors and Weightmans LLP, both of whom specialise in dealing with agency/IR35 matters.
As the UK's number one technical recruiter we are well placed to assist you and make sure your business is fully prepared for the new rules.
So, download our resources, attend a seminar or get in touch directly with the Morson IR35 Team for a one to one conversation.
Can't attend one of our seminars?
Don't worry, our latest e-book contains:
seminar recordings

expert insights

private sector clients Q&As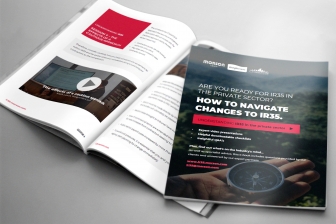 WEDNESDAY 2nd OCTOBER

BRISTOL
How to Compliantly Support Your Contractor Workforce
We recommend undertaking a full review of your contractual workforce and the work performed / required.
A review of how your contractual workforce is supplied, including
consideration of a managed service solution (if not using one already).
Adopt a process to test whether individuals provided through PSCs would fall inside or outside of IR35 (as an addition to any test under CEST).
Preparing for the changes
There is much that can be done in advance of the changes in April 2020 and sufficient time to deal with these.
These include:
We surveyed over 1,000 contractors on issues relating to IR35, of which almost 97% operate through their own limited company.
Discover how prepared the contractor community is, and what their concerns are, regarding the impending changes to off payroll working.

Written with our expert partners our comprehensive guide to IR35 includes:
Expert video presentations
Downloadable checklists
Insightful Q&As
Keep up to date with the latest IR35 news from Morson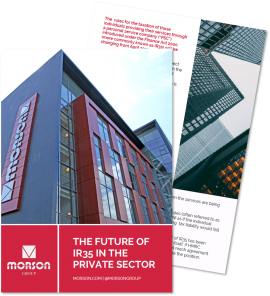 How IR35 works




The changes to IR35




Are you inside or outside of IR35?




How to prepare for IR35
The Morson IR35 team are on hand to answer any questions relating to IR35.
Morson: Phil Beardwood
Compliance & Assurance Director
Get IR35 ready
- How can Morson support you?
Phil has over 35 years' experience in the recruitment industry, and has provided clients with Employment Law guidance and IR35 compliance advice and support. Phil is responsible for implementation and contractual compliance of all new legislation relating to an employment business.
Professional affiliations:
MREC (Member of The Recruitment & Employment Confederation)
Member of APSCo (Association of Professional Staffing Company's)
Panel member of Morson Group Legal Forum
Champion Contractors, along with legal business partner Weightmans LLP have over 10 years' experience of enabling contractors to establish their employment status. This experience was called upon to support public sector organisations through the off-payroll changes implemented in April 2017.
Champion are proposing a seamless service to ensure effective management and compliance of your contractor arrangements throughout the supply chain.
To support you in the lead up to (and following) the April 2020 off-payroll changes, Morson has exclusive partnerships with specialist contractor services company, Champion Contractors, and Top 40 UK law firm, Weightmans LLP, both of whom have significant experience in helping businesses navigate the changes to how IR35 is applied in the public and private sector.
Weightmans LLP is a Top 40 UK law firm who have significant experience in evaluating and assessing employment status.
They have already provided advice to a range of organisations in the public sector and are able to offer proactive advice to private sector organisations in the lead up to (and following) the April 2020 changes. Weightmans LLP are also able to help in; determining employment status and assisting organisations to establish their own systems for doing so, reviewing and amending terms of engagement between organisations and contractors and compiling procedures to ensure compliance at all times.
Morson, Champion Contractors and Weightmans are hosting several IR35 forums throughout the year, consisting of presentations from our IR35 experts and opportunities for open discussion, questions and knowledge sharing.
Mark joined Weightmans in January 2008 and has specialised in employment law since qualifying in 1990. Mark has had significant involvement in off payroll working issues and has been instructed by agencies, Umbrella companies, individual contractors and a number of public and private sector clients to advise on such issues.

Pili Fernandez-Mahoney Associate
Chris Bloor
Compliance & Assurance Manager
Chris has nearly 20 years' experience within the contractor payroll & accountancy services industry. This experience has enabled Chris to build up extensive knowledge of all industry related legislation such as IR35 & his role allows him to support organisations throughout the supply chain.
Jim has nearly 30 years' experience of providing services to contractors, with an equal split between recruitment & contractor accountancy & payroll services. Jim uses his unique perspective & understanding to provide high level legislative guidance & added value support to contractors, agencies & end-hirer organisations.
Pili is a qualified solicitor and has been with Weightmans for over ten years. Pili provides advice to clients across many sectors and has been particularly instrumental in maintaining and managing the relationship with Weightmans and Champion with respect to their Employment Status review process.

Morson, in its role as a specialist recruitment provider, has the appropriate expertise to assist you to ensure your business is compliant with any changes to IR35 and can support you with your full review of the contractual workforce.
Appropriate changes can and should be made in advance of the changes to IR35.
In addition to the in-house expertise of Morson, Morson has partnerships with Champion Contractors and Weightmans LLP who specialise in dealing with agency/IR35 matters and are fully up-to-date with the changes implemented in the Public Sector and the intended changes in the Private Sector. In conjunction with these partners, Morson can provide a practical and commercial solution for your business.